Friday, August 3, 2012
Author:
Leah Scheier
Released:
6. 26. 12
Add it on:
Goodreads
Inquisitive and observant, Dora dreams of escaping her aristocratic country life to solve mysteries alongside Sherlock Holmes. So when she learns that the legendary detective might be her biological father, Dora jumps on the opportunity to travel to London and enlist his help in solving the mystery of her cousin's ransomed love letters. But Dora arrives in London to devastating news: Sherlock Holmes is dead. Her dreams dashed, Dora is left to rely on her wits—and the assistance of an attractive yet enigmatic young detective—to save her cousin's reputation and help rescue a kidnapped heiress along the way.
Inky's Blurbings
I actually read this back in June via the
DAC Arc Tours.
So this is a very late review. Let it be know that I totally love Sherlock Holmes and have read quite a few of the short stories, so it wasn't hard for the idea behind this book to hook me.
I love a good mystery. And in a historical setting? Sign me up!
Woot!
This book got off to a good start. I felt like it was
well paced and good in the introduction aspect of the book
. The mystery got off the ground well and started to build shortly in. Honestly I'll admit there were
a couple times when it got confusing or I just had to straighten up a couple facts,
but for the most part it was easy to follow. However there was one thread in the mystery I felt that didn't get woven up. Maybe it's just me. I don't know.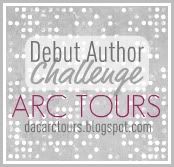 A big part of this book is the relationship between Peter and Dora. Holy cow,
Peter rocketh
. Haha. He's another kind of "investigator" that Dora runs into and they clash nearly the moment they meet. It was so funny and yet aggravating every time they had a conversation.
They had their little bouts of "Who's the better Detective?" throughout the whole book.
That was so great.
But then you have the more romantic side to the two. Dora obviously is attracted to him and there are signs claiming that the feeling is mutual.
But they are both to stubborn to admit it for make the first step. That's what drove me nuts. They don't even kiss.
After all that? We have to wait for the next book? Come on!
So that would have to be the cliffhanger of the novel.
I was mad where it ended because I wanted something about them to be resolved
. Their secrets are and they really connect, but nothing else happens. Luckily...there is a sequel! For this I am happy. I can not wait for more news about it!
So Overall? I had a really great time reading this. I loved the mystery and the historical setting. I liked the relationship between Dora and Peter, but honestly it was a terrible ending.
It is also a clean read!
I'm very much looking forward to the sequel!
3.5 Stars


The Archives: