Monday, February 27, 2012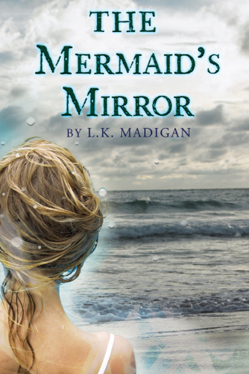 The Mermaid's Mirror by L. K. Madigan
Publisher:
Houghton Mifflin Harcourt
Summary:
Lena has lived her whole life near the beach – walking for miles up and down the shore and breathing the salty air, swimming in the cold water, and watching the surfers rule the waves – the problem is, she's spent her whole life just watching.
As her sixteenth birthday approaches, Lena vows she will no longer watch from the sand: she will learn to surf. But her father – a former surfer himself – refuses to allow her to take lessons. After a near drowning in his past, he can't bear to let Lena take up the risky sport.
Yet something lures Lena to the water … an ancient, powerful magic. One morning Lena catches sight of this magic: a beautiful woman – with a silvery tail. Nothing will keep Lena from seeking the mermaid, not even the dangerous waves at Magic Crescent Cove. And soon … what she sees in the mermaid's mirror will change her life …
Review:

This was a really beautiful book. It flowed smoothly and I read it in about a day. It was another Mermaid book but one that I loved. Realistic and fun. With family trouble and new things with mermaids. I was really sad to learn that the author passed away a year ago, so there will not be a sequel. But this book is good enough to be a stand alone. I loved Lena and being with her. She was a great MC and I think she traversed the book really well. A round of applause for Madigan.
Content:

Mild (
a few instances of language, Lena and her BF fall asleep together for a little bit
)
I loved this beautiful book. Worth the read.

The Archives: