Saturday, July 28, 2012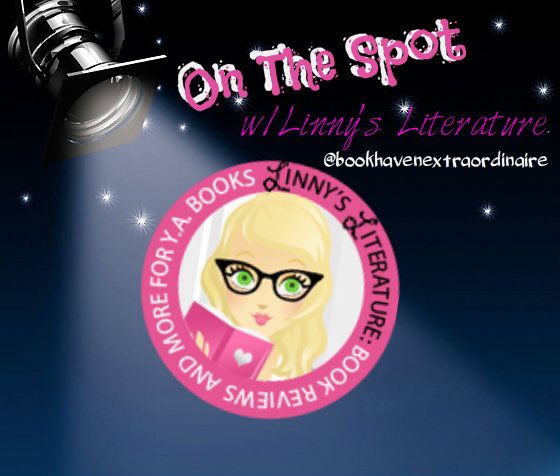 Welcome to another fabulous edition of On the Spot! I love having other bloggers join me and today I've got the fantastical Linny! You may know her, you may not. But here she is, on the spot! (Rhyme in progress)
Linny recently graduated high school and she loves anything artsy and design related. Make sure you check out her blog, she did it all! Oh
and did I mention she works at an ice-cream place? I'm so jelly. She's super fun and her blog is epic! And so is this interview!
Besides a love of books, what made you want to share your reviews with others?
I want to help people. Isn't that the worst thing in the world when you waste some of your precious reading time on a book that you hated? I want to give people (who have a simular taste in books as me) a heads up of what books they should skip and what books they should use their reading time on instead.
Any books to-be-released that you are most excited for?
That list is way too long! One book I'm excited for though is Falling Kingdoms by Morgan Rhodes, which comes out this December.
Favorite books/authors?
Some of my top favorite books/series (so you can call the authors my favorites) are The Hunger Games, Harry Potter, The Host, Demon Kissed, and Demon Princess.
Favorite color?
You'd probably think pink from my blog design, but it's green!
When did you really start reading a lot?
I used to read a lot during elementary, but I stopped for a long time. I started up again about 3 years ago in my 10th grade year of highschool.
Favorite book genres?
Anything Young Adult fiction. No realistic-fiction for me though!
If you were fictional, what character from a book would you be most like?
Well, I
hope
that I would be most like Katniss. But I would probably be more like Ivy Taylor from Demon Kissed. Starts out ordinary and slowly grows into an amazing MC through the story, but still makes mistakes.
Are you more prone to buy or borrow books?
Definitely buy them. I can't stand people who dog-ear or bend pages and I don't want to share books with those people, even if they're not really my books haha. Plus, I can have them there for me to read whenever I want - no waiting lists etc.
You can have any author to dinner. Who is it?
Peeta Mellark! There are so many though, haha.
Best book quote?
There are quite a few. Here's one that made me cry though! "It's not the face, but the expressions on it. It's not the voice, but what you say. It's not how you look in that body, but the thing you do with it. You are beautiful." -Ian O'Shea, The Host
If you could have any superpower, what would it be?
Telekinesis, like in the movie Chronicle.
Could you say that reading from a bloggers perspective has changed the way you read books?
The only thing that it's changed is that I keep a notepad to write good quotes and my ideas for my reivew on. I still think about the book the same way, or rather I still get dragged away and am not really thinking at all.
How did you get your current blog name?
I wanted it to be simple and let people know that my blog was based around a person, not a company or professional reviewing group.
If you could pick any book or series to be made into films, what would you pick?
The Demon Kissed books! An alternate ending for the 5th film required though..
Are you a Morning, Noon or Night person?
Noon.
Favorite reading spots?
In my bed with my cat at my side, haha.
Harry Potter or Hunger Games?
What kind of a loaded question is that? Haha! I LOVE both, but if I had to choose I would say Hunger Games.
What do you tend to spotlight in your reviews?
I try to cover everything, but I go more in depth about the things that really made or ruined the book for me. Like if there was something about the writing style that really bothered me, I'll explain what about it got to me and give quote examples.
Thanks so much for dropping by Linny! It was a blast?
Email me! (sidebar) I'd love to have you!

The Archives: