Tuesday, July 17, 2012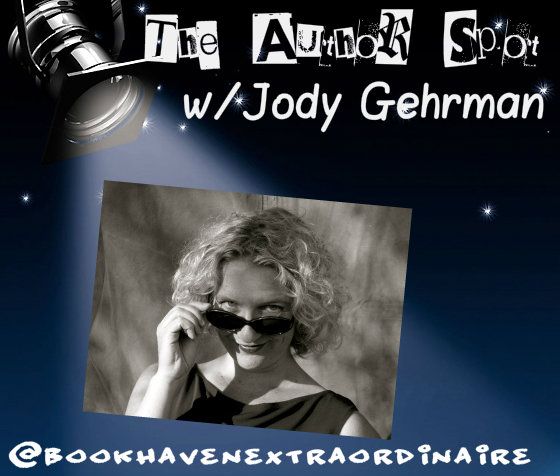 Welcome to The Author Spot. Featuring fabulous authors and their fabulous books! Today I'm spotlighting the lovely Jody Gehrman!
Jody Gehrman is the author of seven novels and numerous plays. Audrey's Guide to Witchcraft is her most recent Young Adult novel. Her other Young Adult novels include Babe in Boyland, Confessions of a Triple Shot Betty, and Triple Shot Bettys in Love, (Penguin's Dial Books). Babe in Boyland won the International Reading Association Teen Choice Award and has recently been optioned by the Disney Channel. Her adult novels are Notes from the Backseat, Tart, and Summer in the Land of Skin (Red Dress Ink). Her plays have been produced in Ashland, New York, San Francisco, Chicago and L.A. She and her partner David Wolf won the New Generation Playwrights Award for their one-act, Jake Savage, Jungle P.I. She is a professor of English at Mendocino College.
Audrey's Guide to Witchcraft
Falling in Love, baking a magical cake, fighting an evil necromancer—it's all in a day's work for Audrey Oliver, seventeen-year-old witch-in-training. When her mother goes missing and her twenty-one-year-old witchy cousin shows up out of the blue, Audrey knows something's gone horribly, dangerously wrong. Now it's up to her to get her own magical powers up to speed before everyone she loves is destroyed by the sorcerer intricately connected to her mother's secret past.
The Interview
W
hat inspired the idea for this story? Was is totally random or based on something?
I've always been fascinated by witches. In my twenties I dabbled in witchcraft a bit myself--nothing too extreme, just moon ceremonies, some experimenting with spells, that sort of thing. I wrote this book seven years ago in a very different form, but never felt it quite worked. A few years ago I pulled it back out and totally re-envisioned it as a YA novel.
I
f you had to rename your book what would you name it?
That's an interesting question! Another title I played around with was SATURATED, because Audrey's magical powers involve pulling everything from her environment (emotions, weather, etc.) into her body and channeling it into a laser-like weapon. I love one-word titles, but in the end it just didn't seem to fit as well as AUDREY'S GUIDE TO WITCHCRAFT.
Idea

of

a perfect dinner?

One with lots of tasty salty pig products that I didn't have to cook.
M&M's Or Skittles? M&M's: peanut, please.
When did you know you wanted to write? I wrote my first "novel" when I was eight. I've been hooked ever since.
Was there an author that inspired you to write a fabulous book? Someone you look up to?
So many! I adored LITTLE WOMEN as a kid, especially the character Jo who was a writer. I think that series and the character herself inspired me.
Who was the most supportive in your writing process?
My father's always been a great reader; he loves everything I do unconditionally. My husband usually has a few notes but inevitably says "It's the best thing you've ever written" even when he's looking at clumsy early drafts. .
Theme Song for the book?
Spooky Little Girl.
What are your Favorite scenes to write?
The chocolate cake make-out scene and the redwood forest bat-face scene.
What do you have in common with your MC?
We both love cinnamon rolls and have a weakness for boys like Julian.
Are your supporting characters based off people you know in real life?
Not really; most are composite characters, with little bits and pieces of people I've known.
If you could have any other author to dinner what would it be?
I really love Nina LaCour's new book, THE DISENCHANTMENTS. I told her on Facebook I'd like to lure her up to my neck of the woods to talk shop over cocktails. Honestly, I love talking to other YA writers. Most of us seem to share a fascination with youth culture and a love of sparkly things.
Favorite fictional crush?
Heathcliff.
Favorite quote from your book?
"Okay, this had gotten very bippity-boppity-boo. I half expected little mice to start whipping up a puffy pink gown while singing in high creepy voices."
If you designed your own fortune cookie what would it say? "Your quirky smile will light up the world."
If you had a geni what would you wish for?
A magical treehouse.
Has being a writer changed the way you read and perceive literature?
Yes. I can't stop analyzing their techniques, even when I lose myself in a story.
Any upcoming projects we should look for?
The sequel to this book: AUDREY'S GUIDE TO SLAYING ZOMBIES AND BREAKING HEARTS.
If you had to change the name

of

your MC what would it be?
She might be a good Violet.
Organization or Messes? Messes!
Jody is giving away ELEVEN copies of her new fabulous book! 10 in ebook form and signed copy! Don't miss this! Go enter now and share this magical love! Open Internationally. Be 13 years old. I reserve the right to disqualify any fake entries (I DO CHECK). Good luck!
a Rafflecopter giveaway
****
Thanks for joining me Jody! I'ts been awesome having you on the spot! I'm super excited now to read about Audrey's magical adventures! TNT,


The Archives: