Tuesday, April 24, 2012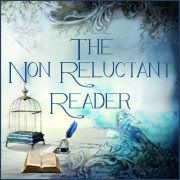 Continuing with all the fabulous bloggers I've had on the site, Benji from The Non-Reluctant Reader joins me today for another great interview! Benji, like me is a Young Adult reviewing books and sharing our passion for them. Other interests include Soccer, School and Sailing. Go S!
Welcome to the blog Benji!
Besides a love of books what made you want to share your reviews w/others?
I really wanted to meet some other book lovers through my blog, and blogging has done just that!
Most excited books to read this year?
Hmm... I've already read Insurgent which was my most anticipated of 2012, so after that I'll have to go with The Evolution of Mara Dyer! Loved the first one!
Favorite Books and Authors?
The Hunger Games Trilogy (major duh), Divergent Trilogy, The Unbecoming of Mara Dyer, The Mortal Instruments, A Touch Trilogy, and a whole lot more!
Do you have a Theme Song?
Either Rocket Man by Elton John or My Heart Will Go On by Celine Dion.
What's your Favorite Color?
What's your Favorite Book Genre to read?
Either YA Dystopian or YA Paranormal.
If you were fictional, what character from a book would you be/ most like?
Hmm... I think I'd be like President Snow from The Hunger Games, lol! I'm cunning and cruel, MWHAHAHAHA


If you could have any author to dinner what would it be?
Veronica Roth (The Divergent Trilogy), her and I would come up with a plan to make The Divergent Trilogy never end!
Best book quote?
"Remember, we're madly in love, so feel free to kiss me anytime you like." - Peeta, The Hunger Games.
Mismatched or matching socks?
Matching. I'm a huge formality freak, lol.
If you could have any superpower what would it be?
I don't know. Flying would be awesome though!
If you designed your own fortune cookie what would it say?
"May the odds be ever in your favor"


Could you say that reviewing from a bloggers perspective has changed how you think about books?
Major yes. Before I started blogging, I used to rip on authors/books I didn't like a ton, but after interacting with them online, I know all the work they put into their books and that they are all really nice, so I've have calmed down on my author ripping!
If you could change one thing about your blog what would it be?
Perhaps I would like to expand on word choice. I find myself using the same words a lot, and I don't want to bore my readers.
Thanks for having me!
**
Well, that's a little taste into Benji! Thanks for joining me! Make sure you all check out his blog
HERE
!


The Archives: