Sunday, April 1, 2012
In My Mailbox is hosted by
The Story Siren
and was designed
to spotlight books that you have bought, won, borrowed or received in the past week.
What I Bought From Kindle Store:
All for less than $4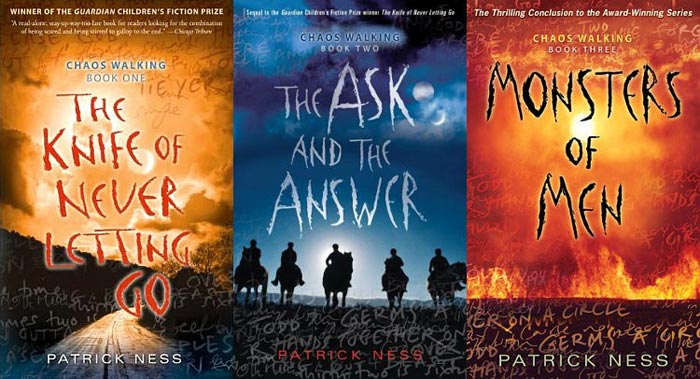 Chaos Walking Trilogy by Patrick Ness
Prentisstown isn't like other towns. Everyone can hear everyone else's thoughts in an overwhelming, never-ending stream of Noise.
Airel by Aaron Patterson
All Airel ever wanted was to be normal, to disappear into the crowd. But bloodlines can produce surprises, like an incredible ability to heal. Then there's Michael Alexander, the new guy in school, who is impossibly gorgeous…and captivated by her. Somewhere in the back of her mind, she can hear the sound of pages turning, and another, older story being written. It is the story of an ancient family, of great warriors, of the Sword of Light, and the struggle against an evil so terrible, so far-reaching, that it threatens everything.
Set in Stone by Beth Balmanno
Fifteen year-old Valerie is used to losing things–she lost her dad to his job ages ago and her best friend moved with no warning...and hasn't been heard from since. During a weekend camping trip with her emotionally distant parents, she stumbles upon a hidden, mysterious stone and she finds herself desperate to keep it, to possess it. Two strange and beautiful boys have other plans, however. They follow her home–Leo, warm and seductive, who covets the stone and will stop at nothing to get it; and Noel, dark-haired and wise, who pledges to protect her and keep her safe. As she delves deeper into the magic of the stone and the Celtic lore that surrounds it, Valerie realizes that she's losing. Again. But this loss might involve more than a magical stone – this time, she just might lose her heart.
Awake: a fairytale by Jessica Grey
Alexandra Martin didn't believe in fairytales……Until she walked into one.
It turns out fairytales aren't all fun and games. A curse has turned her neat and orderly world upside down, and to break it, she bands together with a fellow intern and a recently awakened princess who's been asleep for 900 years. Can this trio of unlikely heroines put an end to an ominous enchantment, discover true love, and keep an ancient and evil magic from being unleashed on modern-day Los Angeles
Indelible by Lani Woodland
sequel to Intrinsical
Yara is beginning to understand just how much her life will change now that her Waker abilities have emerged. She has come to terms with the fact that seeing ghosts is part of her life, but she isn't ready to let being a Waker dictate her choices. All she wants is a ghost-free senior year with her boyfriend, Brent, and her best friend, Cherie. But Yara soon discovers that there are more dark secrets in her school's history than just the curse she broke. As new enemies emerge and old ghosts resurface, Yara finds herself in the center of another deadly mystery, and this time she has to contend with the living as well as the dead.
Library Loot Of The Week:
At Face Value by Emily Franklin
In this modern love story, Cyrano de Bergerac is reinvented as a brilliant and funny seventeen-year-old . . . girl. Cyrie Bergerac has learned to live with her (ahem) peculiar proboscis. Cyrie is convinced that no guy--hot or otherwise--would deem her crush-worthy. Certainly not Eddie "Rox" Roxanninoff, who's gorgeous, smart, and genuinely nice to boot.
There's someone else smitten with Rox, too. It's Leyla, Cyrie's pretty yet tongue-tied best friend. Helping Leyla seduce Rox through email provides a wonderful way for Cyrie to express her true feelings. But watching her crush hook up with Leyla may be more than she can take.
A Voice In The Wind by Francine Rivers
Torn by her love for a handsome aristocrat, a young slave girl clings to her faith in the living God for deliverance from the forces of decadent Rome.
I'm really excited with my haul for this week. It might take me a while to finish them all or even get to some of those ebooks, but all in all I'm happy. I will make a note that I LOVE the play Cyrano de Bergerac so I'm excited for a cute retelling of the story .
What did you get in your Mailbox?

The Archives: