Thursday, April 26, 2012
...spotlighting awesome giveaways with epic books!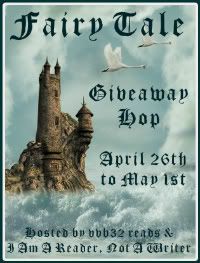 The subject of today's giveaway spotlights is undoubtedly the Fairy-Tale Giveaway Hop! With tons of blogs participating in this (including me!) this is a fabulous opportunity to try and snag some of your favorite faith-tale reads! Check these ones out:
Pen to Paper Fairy-Tale Giveaway
*Choices like Cinder, Beastly and Scarlet.
*Lots of ways to enter!
Mostly YA-Book Obsessed Fairy-Tale Giveaway
*Book Choices include: The Fairy-Tale Keeper & Tiger Lily
Don't Miss These, and others! Thanks to Pen and Nereyda for the giveaway!


The Archives: