Thursday, April 26, 2012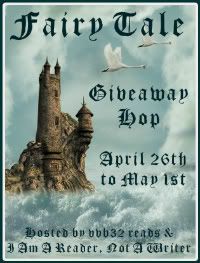 Yeah that's right! I'm doing a giveaway!
*applause and cheering*
What's so great about this giveaway?
IT'S ALL ABOUT FAIRY-TALES
. I'm a nut for fairytales! So, I'm going to offer some of my
FAVORITE retellings
. (
Cue: This is where you start to hyperventilate about amazing prizes you could win
) .
Now first, I should tell you all about
my favorite fairy tale
! It's a little uncommon mind you...
(title will take you to Wikipedia for story)
Ever since I read this fairy-tale in a collection we have I've been really intrigued by it. It's a wonderful story about a
girl saving her brothers
and it's always strung some chord in me. I love all the common ones, but I also love really different and not as known, but I still love it! It's beautiful so I really recommend you trying to read the original tale or some retelling. Below you can find some links to retellings of the story.
~
Daughter of the Forest by Juliet Marillier
~
The Swan Kingdom by Zoe Marriott
Okay, so are you ready to see what you can win? Of course you are!
Your Book Choices:
The Goose Girl by Shannon Hale
She can whisper to horses and communicate with birds, but the crown princess Ani has a difficult time finding her place in the royal family and measuring up to her imperial mother. When she is shipped off to a neighboring kingdom as a bride, her scheming entourage mounts a bloody mutiny to replace her with a jealous lady-in-waiting, Selia, and to allow an inner circle of guards more power in the new land. Barely escaping with her life, Ani disguises herself as a goose girl and wanders on the royal estate. Does she have the pluck to reclaim her rightful place?
OR..
Entwined by Heather Dixon
Azalea and her younger sisters dance in the mysterious silver forest every night, escaping from the sadness of the palace and their father's grief. What they don't understand—although as time passes they begin to get an inkling of the danger they are in—is that the mysterious and dashing Keeper is tightening his snare with deadly purpose. Luckily, Azalea is brave and steadfast. Luckily, a handsome young army captain also has his eye on Azalea. .
Winner can choose which of the two he/she would like. Winner will be notified by email and have 48 hours to respond. Good luck!
a Rafflecopter giveaway


The Archives: